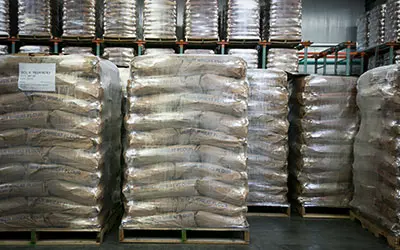 Siemer Milling Company is a bulk all purpose flour supplier. We offer a variety of packaging options for consumer good manufacturers, wholesale bakery ingredient suppliers, food service distributors and more. All purpose flour products available in bulk supply include bread flour, bun flour, pretzel flour, pizza dough flour, English muffin flour and more.
In addition, Siemer Milling Company offers bulk whole wheat flour products (such as whole wheat bread flour, whole wheat cracker flour, whole wheat pancake flour and whole wheat pizza flour) and bulk heat-treated products (including heat-treated cake flour, heat-treated pastry flour, and heat-treated soup/sauce flour).
Packaging and delivery options include 50 lb bags, Supersacks, bulk tankers and rail delivery. Custom packaging and private label options are also available.
Contact us today to learn more about how Siemer Milling can help be your bulk all-purpose flour supplier.